Chiropractic Care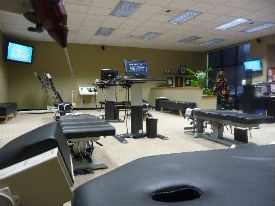 It's commonly known that each person has a unique thumbprint. But what about your particular health challenges? At LEVA Chiropractic, we believe they can't be compared to anyone else's and require the solutions that will work just for you.
Determining Your One-of-a-kind Needs
To understand your specific situation and what will be most effective in getting you results, we'll perform a thorough examination. Once completed, we'll use the chiropractic adjustment to make the necessary corrections. We may give you advice such as home care to make more progress. After just a handful of visits, most of our patients see dramatic effects.



We see people experiencing a variety of different issues, such as
Anxiety
Concussion-like symptoms
Depression
Dizziness
Post-traumatic stress disorder
Sleeping problems
Focusing on the Vital Atlas Bone
When these problems and numerous others present, it may be related to a neck injury. There are several techniques that we use, though Dr. Sweet specializes in Atlas Orthogonal, which concentrates on areas of problem in the upper neck. Rather than correcting a symptom, these methods turn the power in your body back on, letting your natural abilities heal you:

A Light Touch for Miraculous Healing
After experiencing his own health challenges, Dr. Sweet couldn't find answers anywhere. For that reason, we don't just do our best to solve your problems — we look outside the box and everywhere else possible to get you answers. Tough cases are welcome, and we've seen people who thought there was no hope left achieve incredible results from Atlas adjustments. It's so light that you won't even feel it. But when this bone is moved into alignment, the body's recuperative abilities are kick-started.
All ages can experience the benefits of chiropractic, from babies to those in their 90s. When we see newborns, we use the pressure of a pinky to correct a subluxation. Instrument adjustments are often best for a child. Even if you've been told you can never see a chiropractor due to a spinal fusion issue, we would love the chance to evaluate your health and see if we can help.
Contact our Lacey office today to get started! Same-day appointments are available.
---
Chiropractic Care Lacey | LEVA Chiropractic | (360) 438-6001